Stephen Haas
P: 407.359.0568
F: 407.359.0700
Call to Order

$6995
Ventless Processing Station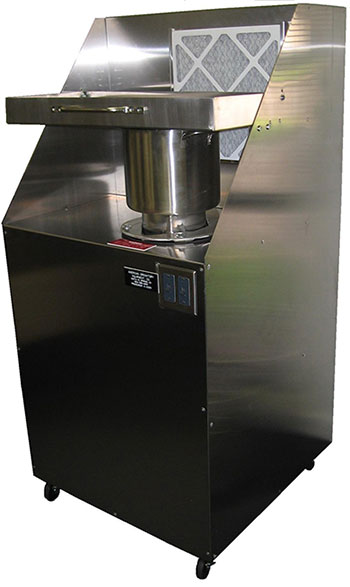 Ventless Cremated Remains Processing Station
The Ventless Processing Station is engineered to process cremated remains to a consistency able to fit into a standard size urn, in 30 seconds. It has a direct drive, 1.5 horsepower motor with overload protection. It can be powered with a standard 110V/30A outlet. It is delivered, ready for operation. The built-in fan and close proximity air filter do not require exterior venting. The heavy duty stainless steel provides an easy-to-clean work station. The Processing Station is mounted on wheels and can be rolled aside for house cleaning.
Features:
Built in processor w/Drum, Lid, Blades, Bearings
Fold down, sorting tray
No exterior venting needed
Small Footprint 30" x 30" x 61"
Works with standard 110V/30A dual plug
Heavy Duty Stainless Steel
Ready for immediate operation
Price:
Call to Order
407.359.0568
Request a Call from Reliable
Leave your name and phone number and we'll call you within 24 hours.
×