Stephen Haas
P: 407.359.0568
F: 407.359.0700
Call to Order

$5495
Lift Table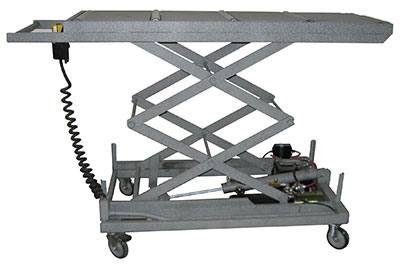 Battery Powered, Hydraulic Lift Table
The Battery Powered, Hydraulic Lift Table is engineered for use in loading funeral coaches, cooler storage, and cremation operations. It is designed with a narrow frame to allow use in tight spaces. It is easy to maneuver and extremely durable. The load platform has 5 rollers to load / unload and a locking system when a stationary load is desired. Comes with a heavy duty 12V battery that is easily recharged via standard 110V wall outlet.
Features:
Rugged, Reinforced Steel Construction
Easy Roll, Heavy Duty Wheels
400lbs Capacity
Lift Range 18" - 72"
Recharge with standard outlet
Ready for immediate operation
Price:
Call to Order
407.359.0568
Request a Call from Reliable
Leave your name and phone number and we'll call you within 24 hours.
×