Stephen Haas
P: 407.359.0568
F: 407.359.0700
Call to Order

as low as $0.65/ea
Cremation ID Discs / Tags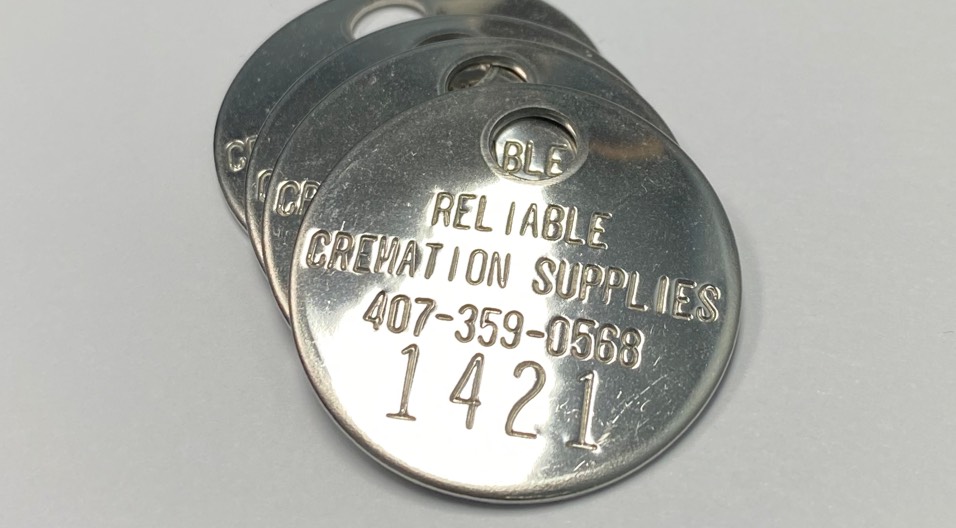 Human and Pet, Stainless Steel Cremation Identification Discs / Tags
Features:
Industry Standard: 18 Gauge, Type 304 Stainless Steel.
No Set Up Charges.
Personalize with 3 Lines of 16 Characters Per Line.
No Sales Tax outside of Florida.
Prices:
| Quantity | Price | Freight |
| --- | --- | --- |
| 1000 | $0.69 ea. | Free Shipping * |
| 2000 | $0.65 ea. | Free Shipping * |
* Free shipping to the 48 contiguous states.
Nothing threatens your business and investment, more than a potential loss of traceability and a handling mistake. We hear about it all too often and it's usually catastrophic to the business. Some states mandate the use of Cremation ID Discs. The Cremation Association of North America goes a step further recommending that the Cremation ID Disc actually accompany each case in the cremation chamber.
With Cremation ID Discs, there is a quality standard that must not be over looked. To best survive the high temperatures of the cremation chamber you need 18 gauge, type 304 stainless steel. Not only is that exactly what we offer, but we offer it at lower prices than competitors substandard discs. You get 3 lines of 16 characters to imprint your facilities vital information as well as a sequential serial number. Your clients will appreciate the documentable process handling procedures that you've worked so hard to develop.
Disc Marking Instructions:
Once your order is placed, we'll contact you for your marking instructions.
Line 1: 16 Characters You Specify (Example: Reliable Funeral).
Line 2: 16 Characters You Specify (Example: Supplies).
Line 3: 16 Characters You Specify (Example: Oviedo, FL 32765).
Line 4: Sequential Numbers, Starting With Number You Specify (Example: 00001).
Call to Order
407.359.0568
Request a Call from Reliable
Leave your name and phone number and we'll call you within 24 hours.
×